Star Marine is receiving its final rounds of polish and we can finally share some of the game's details! Intro's to the game's theme, main character, and gameplay are included below. Check back each week for additional updates and inside info!
About the Game
Star Marine is an action packed, Run n' Gun, side-scroller that features comparable gameplay to popular titles like Contra, Rapid Reload, and Metal Slug! the game is completely original and designed from the ground up with the idea of bringing console grade gameplay to touch devices!
The Main character
Players control Arc, a battle hardened Star Marine. After having seen more than his share of fighting, Arc now avoids conflict by quietly drifting through deep space. If provoked, Arc is an unstoppable fighting force. He wields heavy artillery with ease and can quickly negotiate and scale any terrain while using his propulsion pack.

Controls
Star Marine features a familiar dual stick control schematic with a single button to activate Arc's propulsion pack. The controls are extremely responsive and allow Arc to run, dash, jump, hover, hang, climb, and prone while delivering a continuous rain of bullets upon his enemies!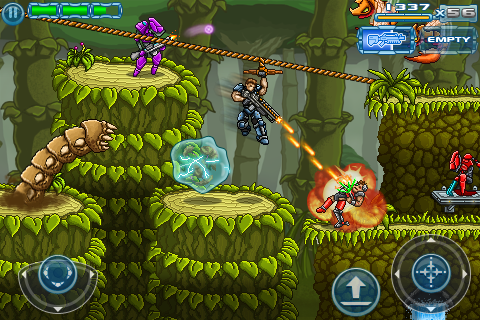 …So, what does everyone think? Are you ready for some adrenaline packed run n' gun action for your favourite touch device?